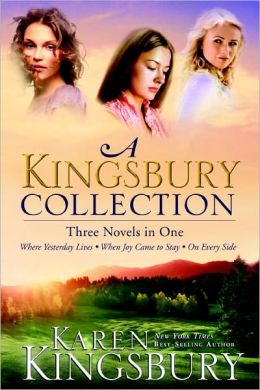 If you have never read Karen Kingsbury, then you are certainly missing out. She is one of the greatest Christian fiction authors, ever. In this collection, there are three books; Where Yesterday Lives, When Joy came to Stay and On Every Side.
My favorite had to be When Joy Came to Stay. I have seen the effects of children who live in homes where love is not abundant. It is devastating. My heart broke for the little girl and her mom who was ridden with so many problems. When Joy Came to Stay talks about the damage that hiding our sin causes and the havoc it wreaks on ourselves and those around us. I cried multiple times in this book, so if you are looking for a book not to cry, read another one. Where Yesterday Lives will touch every person who is in a family. All family has baggage and issues. I love watching the characters figure out how to love each other and work through their junk.
Karen Kingbury is a master storyteller. Any and all of her books are amazing, but this collection is a good place to start! Why don't you read chapter one and tell me what you think?
"I received this book for free from

WaterBrook Multnomah Publishing Group

for this review."